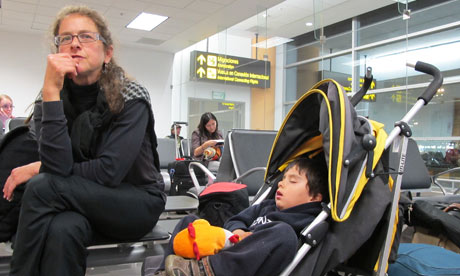 December 20, 2011|By Mariano Castillo, CNN

Lori Berenson, the American activist convicted of aiding terrorists in
Peru, arrived in the United States Tuesday morning for the first time
since her 1995 arrest.

Berenson arrived at the Newark Liberty International Airport just past
7:30 a.m. An hour later, she emerged from the terminal pushing a luggage
cart and with her 2-1/2-year-old son at her side.

She exited the terminal without saying a word to reporters and boarded a
waiting sedan with her mother and drove off.

A previous attempt by Berenson, currently on parole, to visit the United
States for the holidays was foiled Friday because she lacked some
paperwork.

She will spend the holidays with her family in New York.

Last week, Berenson's lawyer, Anibal Apari, called the decision to block
her from leaving as "arbitrary," and said he wanted to get to the bottom
of who gave the order.

But a Peruvian immigration official later said that Berenson lacked a
document from his office, which she received Monday, the state-run Andina
news agency reported.

Berenson was sentenced to life in prison in 1995 for collaborating with
the Tupac Amaru Revolutionary Movement to attack the nation's Congress and
overthrow the government. Her sentence was reduced to 20 years on appeal.

She was released from Lima's Chorrillos Penitentiary in November 2010
after a Peruvian court granted her parole. As a parolee, Berenson must
remain in Peru until at least 2015.

Under the travel terms set by her immigration paperwork, Berenson, 42, has
to return to Peru by January 11.

In 2009, while in prison, Berenson gave birth to a son who was fathered by
Apari, her estranged husband who is also her attorney. The boy lived with
her in prison until her release.

Lori Berenson returns to the US

Paroled American activist convicted of helping Peruvian guerillas allowed
home after initially being prevented from boarding flight

Associated Press in Lima
guardian.co.uk, Tuesday 20 December 2011

Lori Berenson with her son at Lima international airport before boarding a
plane to the US. Photograph: Frank Bajak/AP

The American activist Lori Berenson, who stirred international controversy
after being convicted of helping Peruvian guerrillas, is returning to the
US for her first visit since Peruvian authorities arrested her in 1995.

The 42-year-old, who is on parole, boarded a Continental Airlines flight
at Lima's main airport under intense media scrutiny.

Berenson's departure capped three days of confusion after Peruvian
authorities prevented her from boarding a flight to New York on Friday
despite a court approval allowing her to leave. The court has ordered her
to return to Peru by 11 January.

The authorities said Berenson, who had served 15 years on an accomplice to
terrorism conviction before her parole last year, lacked an additional
document.

Peruvian migration officials finally gave Berenson another document on
Monday clearing her to leave the country with her son.

Her father, Mark Berenson, said he was anxious to see her return.

"I'm just glad that they finally resolved the thing," he said.

Lori Berenson admitted helping the Tupac Amaru rebel group rent a safe
house where authorities seized a cache of weapons after a shootout with
the rebels. She insists she did not know guns were stored there and says
she never joined the group.

In 1996, a military court of hooded judges convicted Berenson of treason
and sentenced her to life in prison. After US pressure, she was retried by
a civilian court.

Her father said his daughter had every intention of returning to Peru.

By law, she must remain in Peru until her full sentence lapses unless the
president, Ollanta Humala, decides to commute it.

Peru remains deeply scarred from its 1980-2000 conflict, which claimed
about 70,000 lives.

Its gaping inequalities drew the young Berenson to Peru from El Salvador,
where she had worked for the country's top rebel commander during
negotiations that led to a 1992 peace accord.

Tupac Amaru was a lesser player in Peru's conflict. The group never set
off car bombs or engaged in the merciless slaughter of thousands as
Shining Path rebels did, but engaged in kidnappings and selective
killings.

In the 1980s, it was known for hijacking grocery trucks and distributing
food to the poor.

The group most famously raided the Japanese embassy in Peru in 1996 during
a party and held 72 hostages for more than four months. A government raid
killed all the rebel hostage-takers.